I'm taking you along with me as I create a new card deck for myself. I will create it with an American Indian theme as I did once before. What is Lenormand? - check out my previous article.
Card 13 - Child
When we think of the Child, we tend to think of:
New life, beginnings, new eyes to see around us
Training, learning, education, lack of prejudice
Happiness, youthfulness and feeling carefree
Small stumbling blocks that are easily overcome
For more information on what this card means, check out Lenormand1's interpretation - for combining the (CARD) with any other card, check out the site: Learn Lenormand
For my new card, For my new card, I hit Google Images search, looking for something with CC0 (Creative Commons 0) licensing meaning that I don't always have to remember to credit someone - essential if I were to start doing paid readings with these cards.
I also had to find out which traditional playing card is associated with this card. So, here is my result: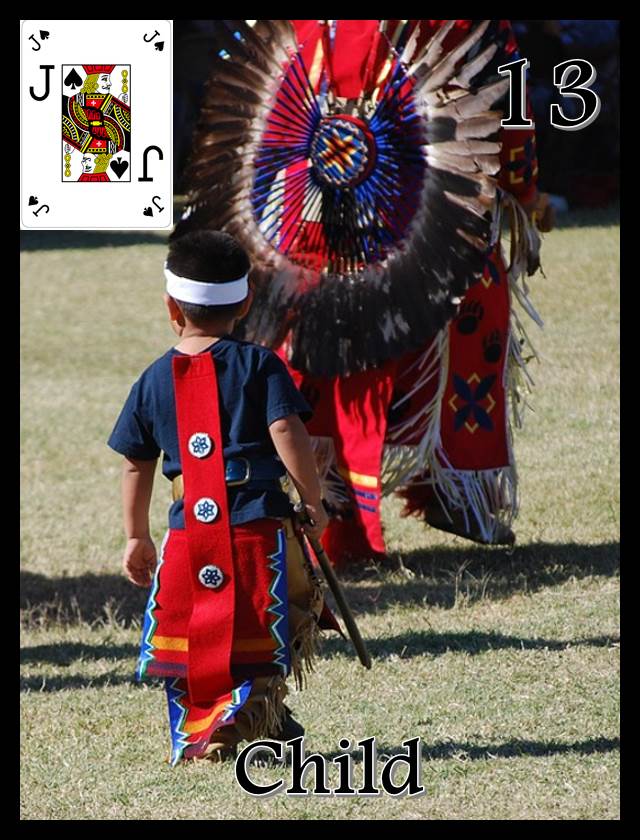 (Base image source: Pixabay)
I just love this image - how the child is following in his father's footsteps. He is trusting, learning, following the advice of those older than himself to keep the tribal traditions. He is the next generation - the hope of the tribe. That is how we should see this card - full of optimism, if we only try to learn the lessons set before us.
Note: Readings are entertainment only (legally). You are in charge of your own destiny.
Previous cards: 1 Rider; 2 Dreamcatcher; 3 Canoe; 4 Tipi; 5 Medicine Wheel; 6 Clouds; 7 Poison Ivy; 8 Burial; 9 Flowers; 10 Tomahawk; (11 skipped temporarily); 12 Hummingbird;
Crossposted at Steemit, Whaleshares, WeKu

Lori Svensen
author/designer at A'mara Books
photographer/graphic artist for Viking Visual
verified author on Goodreads
find me on Twitter
also on: Whaleshares, WeKu


---
Join us in the Official Whaleshares server in the text channel "the-phoenix-project"